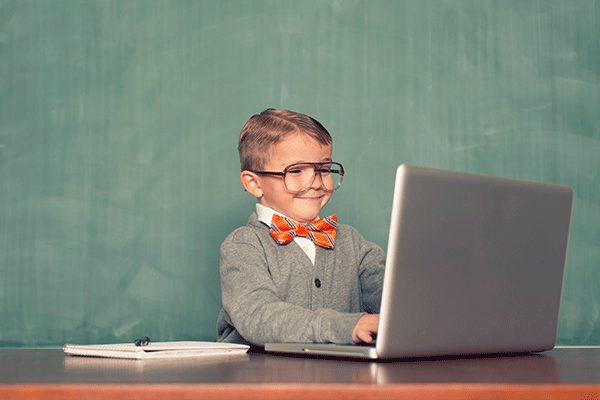 According to Hubspot, electronics companies that blog get at least 55% more visitors to their website. This is because every new piece of unique content boosts your Google rankings.
Corporate websites simply give basic information and describe what the business offers. If you're looking to establish your business as a thought leader, develop relationships with customers or gather feedback from prospects – then a company electronics blog is certainly the best choice.
But when it comes to blogging for electronics many companies have no idea where to start. There is so much technological information it can be hard to narrow it down so that it will engage your audience. Don't get me wrong, The technology sector is certainly not boring. The advent of big data, new technologies, mind-blowing products, innovative services, and the Internet of Things mean there is more than enough to write about!!!
However, it's like big data! – There is so much of it, that we need tools to help us sort and organize to use that information to our advantage.
If you are finding it a struggle to generate content for your blog, The following ideas will help set you on the right path, generate more website visitors, increase leads – and ultimately revenue.
1. A content grid
Don't take starting a company blog lightly. Even if only a few people visit it to begin with, those few people will have the potential to become clients.
Your goals should drive your content.
It used to be the basic mission of marketing to find customers. But in a world of scarce attention and information abundance we have got to create our own attention by producing content that draws people in. We have to create content that's interesting, informative and entertaining and distribute it across online channels so it can engage prospects.
But before we can market effectively to a buyer persona we must first understand what they need to learn from us as they proceed through their purchasing journey – from awareness through to decision. By producing a content grid matched to each persona's purchasing journey we can propose engaging content for each step and identify gaps or rework needed.
And remember you can always use existing content! You don't always have to produce new ideas out of thin air. Recycle old content and look for new ways to present old information.
Here are some ideas to help you recycle what you already have:
Find someone else's article that you agree or disagree with and support your own argument
Find tips in other content, create a list of those tips and make sure you link your sources.
Share an excerpt from an eBook or white paper and suggest the lead downloads the rest.
Share an excerpt from an upcoming webinar.
Record presentations.
Share your slides from a recent presentation.
Do a round-up of last year's most popular posts.
Create useful downloadable templates.
For more tips on how to make your content go further click here.
2. SEO Keywords
Your SEO keywords are the key words and phrases in your web content that make it possible for people to find your site via search engines.
Once you have a topic, focus on making it into a high search, low competition keyword – The Google Keyword Tool can be very helpful – take the topic and turn it into a keyword because you want the post to rank for the keyword that people actually use, instead of your best guess. Also, find a low competition keyword so you have a better chance of ranking for it.
Here are some tips to help you get those all important keywords into your posts:
Use keywords in your blog post title:
One of the best ways to incorporate keywords into your blog posts is to use them in your blog post titles.
Focus on using just one or two keyword phrases in each blog post:
To maximize the traffic that comes to your blog via search engines, focus on optimising each of your blog posts for just one or two keyword phrases. Too many keyword phrases can look like spam to search engines.
Use keywords throughout your blog posts:
Try to use your keywords (without keyword stuffing) multiple times in your blog post. For best results, use your keywords within the introduction of your blog post, several times throughout your post, and the final paragraph.
Use keywords in and around links in your blog post:
Search engines like Google place more weight on linked text than unlinked text when ranking search engine results. Therefore, it's a good idea to include your keywords in or next to the links within your blog posts.
Use keywords in image Alt-tags:
When you upload an image to your blog to use in your blog post, you usually have the option of adding alternate text for that image which appears if a visitor cannot load your images in their Web browsers. This alternate text, can also help your search engine optimization efforts.
SEO is also clarity and quality:
Don't lose the content in all of the keywords and if you don't know what you're talking about, it won't matter how keyword rich your content is. Always put the essential information first!
3. Brainstorm
The first step in coming up with great posts Is to brainstorm some ideas based on the keywords you have come up with. It can be helpful to write out some briefing cards so all of your ideas are in one place.
Here's some of the steps Stampwood go through to come up with great content ideas:
Headline
Start with the headline idea because that gives a scope for the content of the article.
An engaging headline is an effective way to entice a person to read a blog post; but it can also be a great source of inspiration for when you want to write one.
Here are 13 examples that might just give you an idea for your next post:
5 things you really should know about…
Learn how to do more…with less
7 instant improvements for…
XX statistics about…
9 amazing…videos
An insider's guide to….
What the experts won't tell you about…
Resources to help with your…
A well written "how to" guide on a relevant topic is a great way to establish yourself as an authority within your industry.
Develop Your Subheads
With the headline nailed down, you can start structuring the blog post with subheads. Include first level and second level subheads depending on how in depth you want to be. The first level subheads in this post are the steps, and the second level subheads act as quick scans so you can grasp the section without reading all of it.
…AND to help you on your way even more, we offer these blog post ideas that can be easily brainstormed around and adapted for any tech company:
New Products or Services: Your blog is an ideal venue for spreading the word about a product release or service update. However heavy sales pitches should be used sparingly – for every promotional post, create three that are non-promotional.
Industry News: Decide which news can your audience relate to the most, and how you can write about it using your own perspective.
Trends: How do your products or services address current technology challenges? Write a blog post about it, and show why your tech company is considered an authority in the field.
How-to: Everyone loves a how-to blog post, including your readers.
Reviews: Nothing is more compelling than a review of your product or service by someone who has actually used it. Ask a few individuals to write about their experiences and build a blog post around their discussion.
Events: Are you attending a trade show or conference? Will you be speaking? Make sure your readers know about it: include booth numbers, presentation times, and event-related parties where you can be found. Also recap shortly after you return.
Awards: Customers love doing business with award-winning companies, so don't be afraid to share them. Create a blog post that tells about the background of the awarding organization, the selection process, and what it means to be an award winner.
4. Surveys and research
Using the results from a relevant survey can be a great source for people's opinions; which can then be written up into an informative post.
Respond to industry research with your own perspective and offer a fresh angle.
Do a survey and create an infographic based on the results.
Run a survey in a group on LinkedIn.
Do an in-depth case study about one company, or offer a few examples of how other companies do something successfully.
5. Incorporate other platforms
Remember that a blog post doesn't always have to be in the form of a written article.
You could create a Slideshare presentation of new statistics related to your space and share that in a blog post. Tag the Slideshare presentation with relevant keywords for your company to ensure you include SEO.
And the word out by leveraging your company's social media accounts. When you write a new post, discuss it on Twitter and Facebook. Make sure all of your social profiles include a link to your blog. When someone comments on your blog or contacts you about something you wrote through another channel, respond! – There Is nothing worse than being ignored!
6. And finally…be yourself
Don't make the intern write the blog: Have someone who can represent the company write about it. An intern impersonating the CEO does not cut it.
Don't be too formal: No one wants to read stiff, corporate jumble. Plus, it's easier and more engaging to write like a person and not a corporate entity.
A personal tone doesn't mean TOO personal: This is the opportunity to wow your audience by being a subject matter expert in your field. Keep your personal stories on your personal blog or on Facebook — where your next prospect won't be offended by them.
Blog what you know: What works for everyone else might not work for your company.
Stampwood are experts in marketing automation with an emphasis on electronics companies. If you would like to find out more about marketing automation and our services please visit the rest of our website.
Sources
Pinnacle Marketing: A Guide To Creating Great Blog Content
Cision: Top 50 Consumer Electronics Blogs, by Kristen Sala
Dummies Guides: Writing a Good Blog, by Janine Warner
Retireat 21: How to Write With SEO in Mind, by Yan Susanto
Income Diary: Ultimate Step-by-Step Guide to Writing a Blog Post, by Nicholas Tart
About Tech: 5 Tricks to Use Keywords in Your Blog Posts, by Susan Gunelius
Hubspot: Study Shows Business Blogging Leads to 55% More Website Visitors, by Rick Burnes